In February, the program series of the monthly changing geographic focus is starting with Northern America, and the physical tour of screenings around the globe continues –>
Netherlands (Rotterdam), Finland (Jyväskylä & Keuruu) & India (Sattal/Himalaya Mountains).
1.
Solo – Henry Gwiazda
The geographic focus in February 2011 is directed on USA. CologneOFF is starting with the 1st solo feature, i.e the exceptional work of the video artist Henry Gwiazda, who found his typical artistic language of minimal movements – an exciting viewer experience.
His solo feature can be accessed via the main application on http:/coff.newmediafest.org or the individual screens –> Screen 3 (geographical) see also http://www.nmartproject.net , or Screen 4 (solo), see also –> http://www.newmediafest.org.
During February, each week new selections of experimental film and videoart by US artists will be launched online, so visiting CologneOFF 2011 online again and again will be worth while.
2.
The physical screenings will continue.
There will be another screening until 6 February at CUCOSA Art Space in the framework of Rotterdam International Film Festival –> more info on
Screen 9 – netMAXX http://maxx.nmartproject.net/?p=161.

Afterwards CologneOFF 2011 is jumping to Finland for two venues –
on 10 February Vaikiopaine Jyväskylä, CologneOFF 2011 is presenting two special screenings programs, entitled "Privat space – Open Space?" & "Imagining the Real", more info on Screen 9 – netMAXX http://maxx.nmartproject.net/?p=170,
between 11 February and 31 March, the program "Imagining the Real" will be presented at Keuruu Museum as a part of the Arctic and Fabulous Festival organised by Live Herring 2011.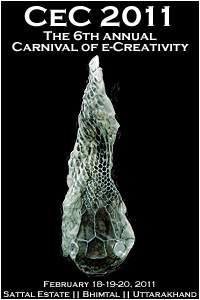 The basic festival program of CologneOFF VI and the screenings programs of associated partner curators Margarida Paiva (Norway), Alysse Stepanian (USA), Pedro Almeida & Sergio Gomes Portugal), Kai Lossgott (South Africa)
and Giorgio Fedeli (Italy) – previously presented in Dec 2010 at Delhi International Arts Festival are Agricola de Cologne curatorial part of CeC – Carnival of e-Creativity 18-20 February 2011- an extraordinary event of digital art not far from New Dehli, but located deep in the Himalaya mountains –> more details on netmAXX http://maxx.nmartproject.net/?p=175